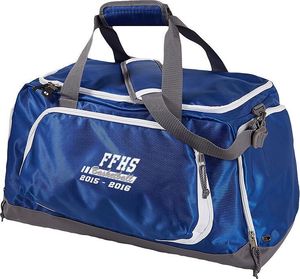 Two seasons ago, I attended a First Flight basketball game in Kill Devil Hills. That night the Nighthawks were defeated by a hefty margin. In fact, they didn't even top the 40 point mark that night. Coach Chad Williams' team would go on to win five games that season.
Now in his 11th season Williams, who played his high school ball at Northeastern in Elizabeth City, has already led his team to more than twice that many victories (11-4 overall, 2-2 in conference). But the difference in this year's team and that team of two seasons ago runs way deeper than just the win-loss column.
The change started late last season when Coach Williams ditched his old offense for an up-tempo, three-point heavy style of play. The Nighthawks would lose no players to graduation from that squad and all the experience, combined with the new offense and a pressing defense, is really starting to pay off.  So much so that this year's team expects to win every single time they step on the court and even has its sights on contending for a conference championship.
The three-point heavy offense is led by Junior Jack Konstanzer, whose brother Max plays on the JV team at UNC. In fact, he's among the state leaders at the 2A level in points scored (23 ppg) and three pointers. The team as a whole is averaging a mind-boggling 42 three-point attempts per game in this run and gun offense. Junior Devan Rodman takes care of the ball distribution and fronts the defensive efforts, leading the conference in assists and steals. Konstanzer and Rodman are joined in the starting lineup by sophomores Tyler High and Devyn Dodson who rank second and third respectively in terms of scoring. Rounding out the starting unit is another underclassmen, sophomore John King.
Four-year varsity letterman Will Geraghty plays a key role off the bench as do fellow seniors Preston Askew and Aubrey Kitchin. Reminton Coder, Julian Muniz, Landon Griffin, Tommy Berge, Owen Halloran, Blaze Rodman, Conner McManus and Grayson Murphy complete the Nighthawks roster.
The players love the new system and the up-tempo nature leads to the constant rotation of players on the court. Coach Williams, who studied the game under both Eddie Payne and Joe Dooley while serving as student manager at ECU, says this team is "the most committed group I've ever had. They expect to win and they all work and play so well together." He would like to invite you all to come find out for yourself. The next home game the Nighthawks play will be held January 20th as First Flight hosts the Knights of Currituck County in Kill Devil Hills. Come show your support as First Flight continues in pursuit of its first postseason berth since 2008.
Share and Enjoy
Tags: